SLIM/P
Info Request
Description:
Lighting fitting with low luminance darklight optics, particularly indicated for offices. Direct light emission, suitable for ceiling installation.
---
General information
Body: Sheet-steel
Luminous source: LED
CRI: 80 (CRI>90 available on request)
Color Temp.: 3000K - 4000K (5000K - 6500K -TUNABLE on request)
Power: 39W - 72W
Optical group: DLM (polished aluminium)
Dimensions

A: 620mm - 320mm
B: 620mm - 1220mm
C: 52mm

Wiring: ON/OFF - DALI - EMERGENCY
Driver included: YES
IP: 20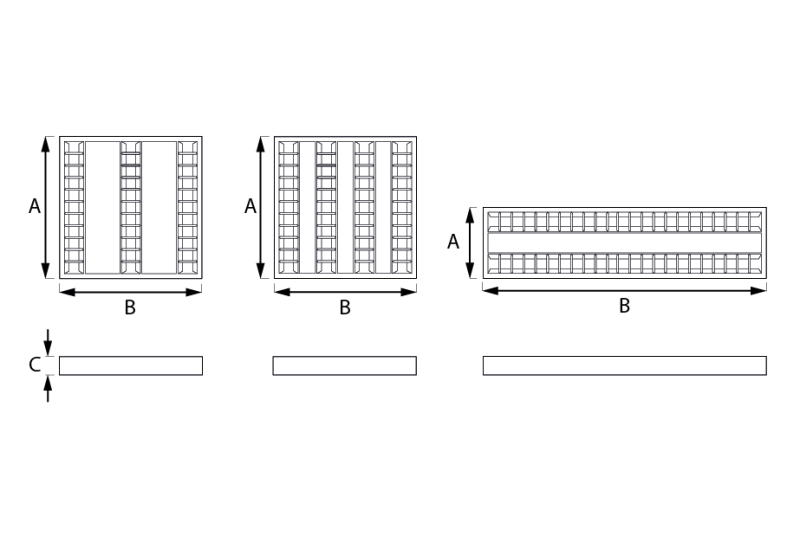 DLM

Polished aluminum, "batwing" emission, suitable for installation in work locations, controlled light emission optic with luminance values < 3000 cd/m² for emission angles > 65° on all planes (UGR<19), suitable for environments with the presence of visual display units. Protection degree: IP20.
SCHOOL - Cordignano (ITA)

SCHOOL - Cordignano (ITA)

SCHOOL - Cordignano (TV)
TELL YOUR NEEDS


We are specialists in designing customized lighting solutions in a short time.
If you are an architect, a designer or a manager, contact us to explain your needs in detail.