THERAPY V
Info Request
Description:
THERAPY V is a vertical modular unit for medical supply composed of 1,2 or 3 channels in extruded aluminum according to specific needs. In compliance with the regulations, in the version with a single channel, electric utilities and medical gases are internally divided. Its clean and modern lines make this bedhead unit a highly flexible and functional product.
---
General information
Body: Extruded aluminium
Protection degree IP: IP20 general - IP40 lighting circuit - IP21 electrical sockets
Standard colour: Opaque RAL9010
SURFACE TREATMENT ON REQUEST: Anodization, antimicrobial coating, decorative finishing. Check the possible finishings
Electrical equipment: according customer's exigencies
MEDICAL GAS SYSTEM: preparation (holes) for connection of the terminal units for the passage of medical gases (type according to the customer's technical specification)
ELECTRICAL FEATURES
Feeding tension: 230V / 50Hz
Additional feeding tension: 24V AC
Maximum socket power: 3000K
THERAPY W devices can be custom-made according to technical exigencies. The maximum height (reffered to a single-block version) is 3700 mm.
For specific needs, please contact our Sales Department.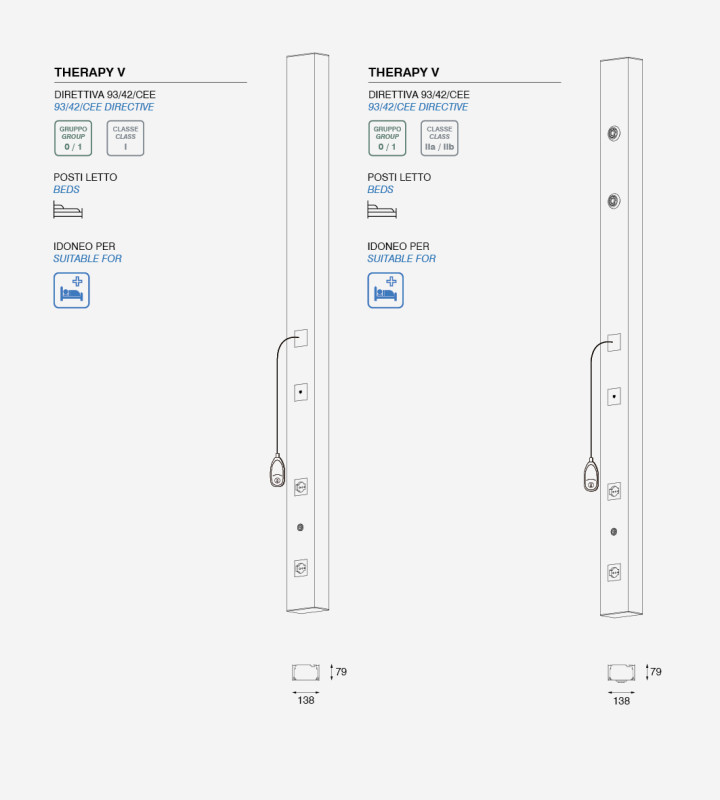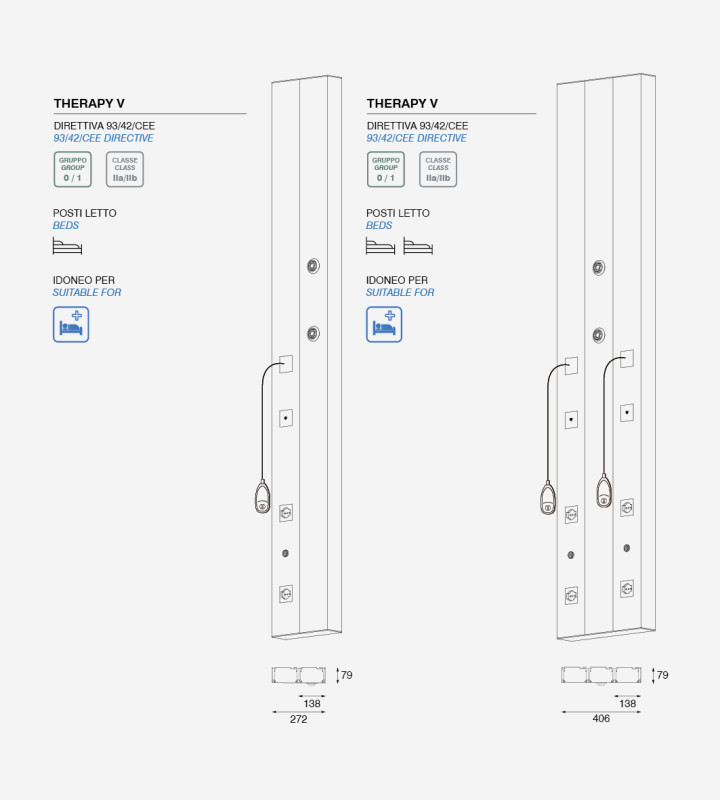 CLASSIFICATION ACCORDING TO THE 93/42/CEE DIRECTIVE
- I class (no gas) - IIa/IIb (with gas)
- Non-stop operation
- No sections are applie
- Suitable for the installation in group 0, 1 and 2 medical premises
- Not suitable for the installation in explosion risk environments (locations with gases and flammable vapours)
- Not suitable for the installation in environments with an oxygen amount superior to the 25% with an environmental pressure until the 110kPa in usual circumstances
- Not suitable for the categories AP and APG provisions

REFERENCE DIRECTIVES AND REGULATIONS
93/42/CEE; UNI EN ISO 11197; CEI EN 60601-1; CEI EN 60598; CEI EN 55015; CEI EN 61547; UNI CEI EN ISO 14971; UNI CEI EN ISO 13485

TELL YOUR NEEDS


We are specialists in designing customized lighting solutions in a short time.
If you are an architect, a designer or a manager, contact us to explain your needs in detail.