TRIAL
Info Request
Description:
TRIAL is a modular medical feeding system that leaves maximum freedom of composition. LED modules for ambient light, visit and reading light are installed along the entire length of the bedhead unit, allowing a perfect lighting of the room in general. Electrical outlets and various equipment necessary for the medical staff (medical gases, nurse call system, data sockets, phone sockets), chosen according to the specific needs of the customer, are located in the central channels.
---
General information
Diffuser: Opal methacrylate diffuser for reading/examination lighting - Opal polycarbonate diffuser for general lighting
Protection degree IP: IP20 general - IP40 lighting circuit - IP21 electrical sockets
Standard colour: Opaque RAL9010
SURFACE TREATMENT ON REQUEST: Anodization, antimicrobial coating, decorative finishing. Check the possible finishings.
Electrical equipment: on request according customer's exigencies
MEDICAL GAS SYSTEM: preparation (holes) for connection of the terminal units for the passage of medical gases (type according to the customer's technical specification)
LIGHTING FEATURES
Details relating to one bed behead unit 1500 mm long
General light: 48W - 3152lm - 4000K
Reading light: 24W - 1576lm - 4000K
Examination light: 48W - 3152lm - 4000K
Night light: 3W - 121m - 4000K
TRIAL devices can be custom-made according to technical exigencies. The maximum lenght (reffered to a single-block version) is 3700 mm.
For specific needs, please contact our Sales Department.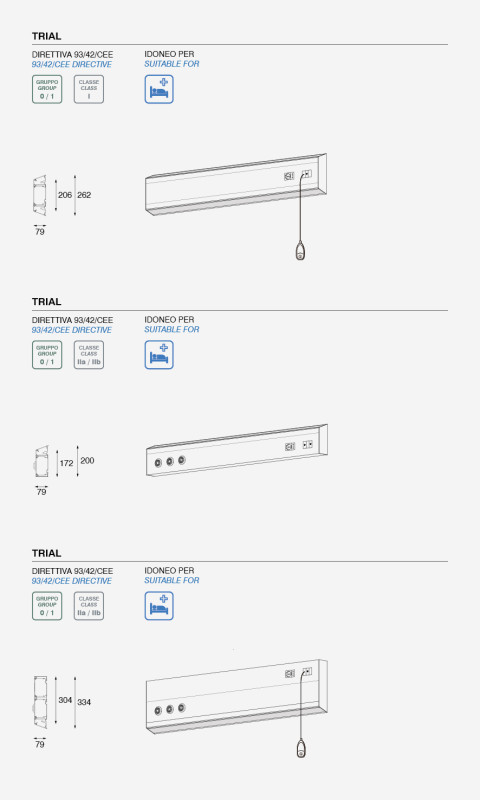 CLASSIFICATION ACCORDING TO THE 93/42/CEE DIRECTIVE
- I class (no gas) - IIa/IIb (with gas)
- Non-stop operation
- No sections are applie
- Suitable for the installation in group 0, 1 and 2 medical premises
- Not suitable for the installation in explosion risk environments (locations with gases and flammable vapours)
- Not suitable for the installation in environments with an oxygen amount superior to the 25% with an environmental pressure until the 110kPa in usual circumstances
- Not suitable for the categories AP and APG provisions

REFERENCE DIRECTIVES AND REGULATIONS
93/42/CEE; UNI EN ISO 11197; CEI EN 60601-1; CEI EN 60598; CEI EN 55015; CEI EN 61547; UNI CEI EN ISO 14971; UNI CEI EN ISO 13485

TELL YOUR NEEDS


We are specialists in designing customized lighting solutions in a short time.
If you are an architect, a designer or a manager, contact us to explain your needs in detail.