WAY FRAME
Description:
Modular system, LED direct emission for recessed installation, composed of an extruded aluminium profile, it can be used either individually or in a continuous lighting rows to achieve "cuts of light" without interruptions.
---
General information
Body: Extruded aluminium profile
Luminous source: LED
CRI: >80 *
Color Temp.: 3000K - 4000K **
Power: 8W - 16W - 32W - 48W - 65W - 81W
Optical group:

PST (satin opal polycarbonate)
PMO (micro-prismatic polycarbonate)
OFC (modular lenses 50 ° with black / white cover UGR <19) ***

Dimensions

A: 67mm
B: 281mm - 561mm - 1121mm - 1681mm - 2241mm - 2801mm
C: 78mm
D: 50mm

Wiring: ON/OFF - DALI - EMERGENCY
Driver included: YES
IP: 40
* on request: CRI>90.
** on request: 5000K, TUNABLE WHITE 2700K - 6500K.
*** on request:
OFC80
optic (80 ° modular lenses with black / white cover UGR <16).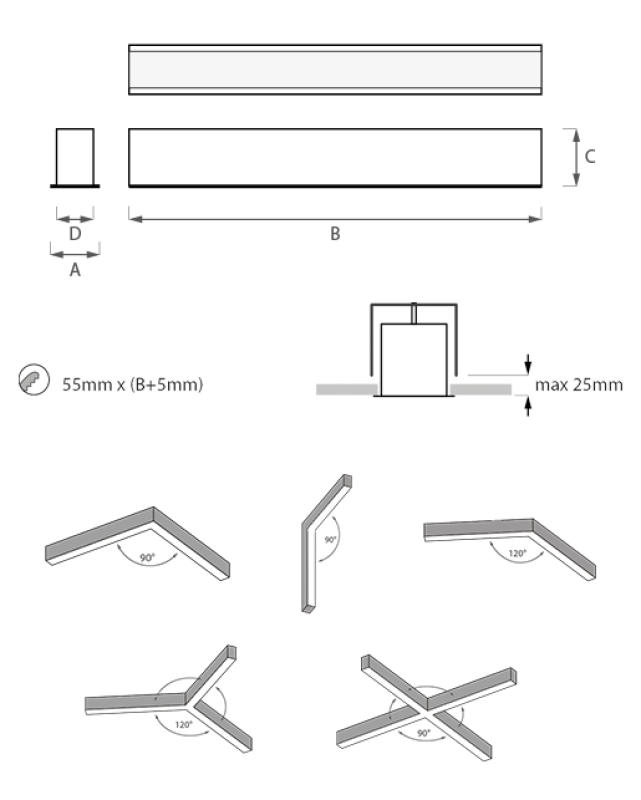 CATTOLICA ASSICURAZIONI - Portogruaro (VE)
TELL YOUR NEEDS


We are specialists in designing customized lighting solutions in a short time.
If you are an architect, a designer or a manager, contact us to explain your needs in detail.